Product News
High-performance on the road:
Hyundai N model with ST XTA coilovers
Breathtaking Rallye feeling in the Hyundai N cars
Up to 204 HP with 4-cylinder front-engine are speeding around the curve. Today, we are looking at the Hyundai i20 N (Type BC3). The "Hot Hatch" has a front axle drive, 6-speed manual transmission, and five doors. If you decide on an i20 N or i20 N Performance, your budget must be around 24.000 and 27.000 euros. Already ex-works, the i20 N comes with various equipment and gadgets. On 100 kilometers, it consumes approximately seven liters of gasoline. That is not a bad result for such a compact yet powerful car. Both i30s cost around 29.000 to 33.000 euros.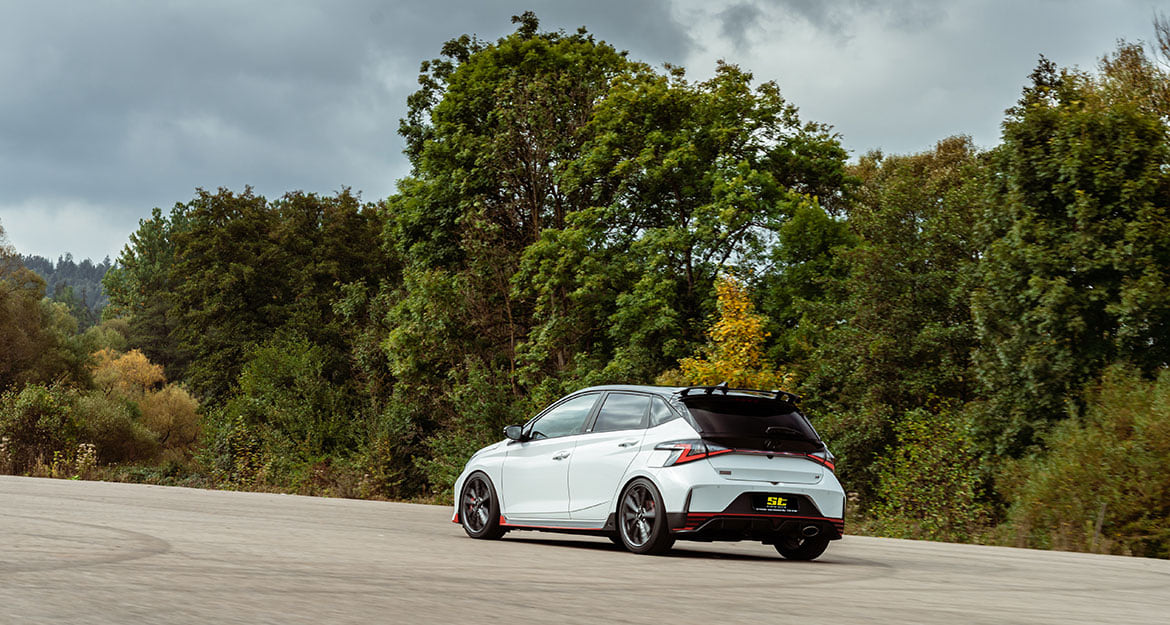 Hyundai N models in detail
Both the N versions and the N performance models are street-legal sportscars of the Korean vehicle manufacturer Hyundai and are available as N models. Every Hyundai N model has a grille in a finish line design, a chrome double tailpipe, a sport steering wheel, and sport pedals for a more racetrack feeling. The "N" on the grille stands for "Namyang" – the Hyundai research and development center – and for "Nürburgring" – one of the most famous racetracks worldwide.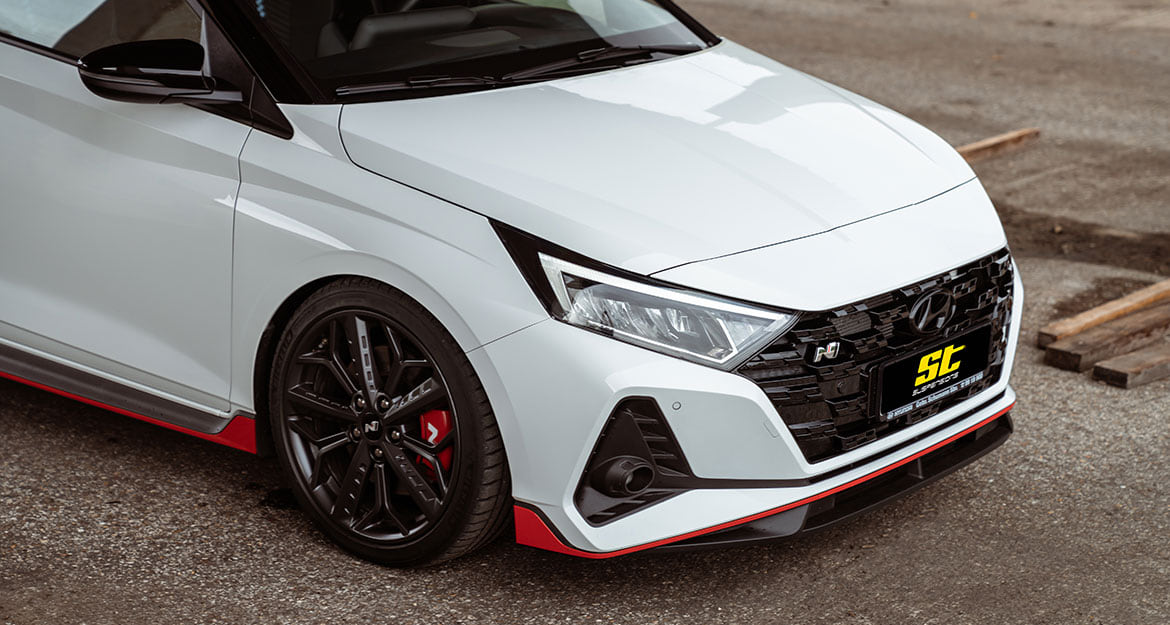 Visit Shop
The difference between N and N Performance models
Those of you looking for further individualization options find their perfect fit with the i20 N Performance. N Performance models have a mechanical differential lock, smart key function, smartphone charging station, heatable back seats, AC automation, and rain sensors. In contrast to the i30 N, the i30 N Performance has 280 HP and a torque of 392 Nm. All N models made by Hyundai come with a turbo engine with direct injection. Please remember that we do not offer ST coilover kits for N Performance models.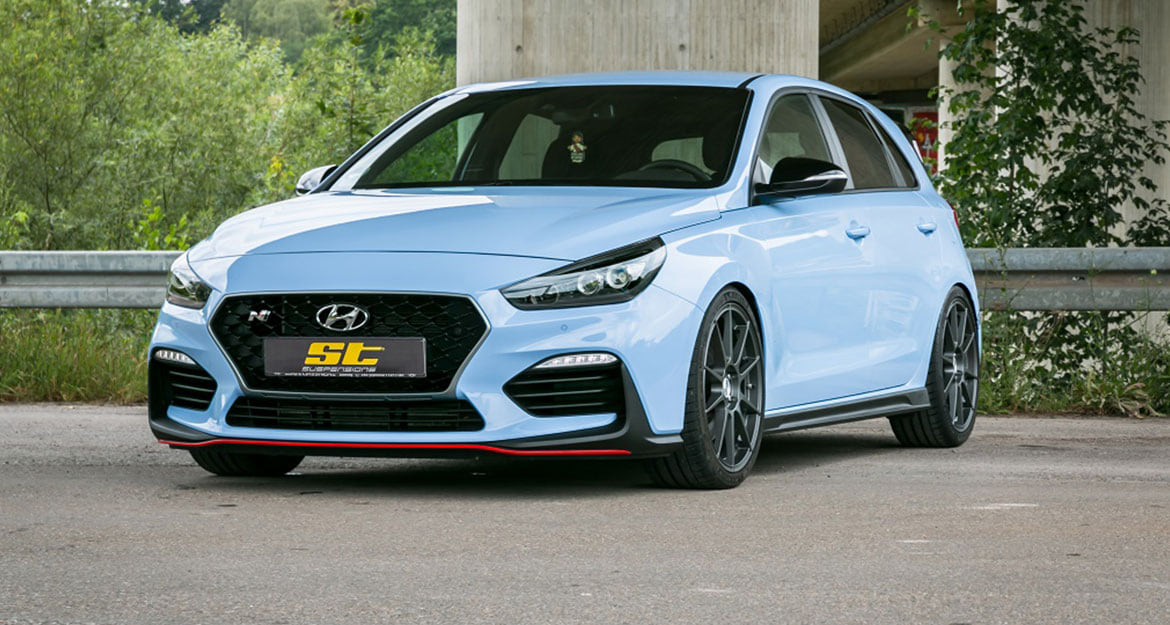 Individual and sporty with XTA coilover kit by ST Suspensions
Racing springs, Unibal aluminum top mounts, and low-speed rebound adjustments enable the independent setting of the driving characteristic of your desires. With the ST XTA coilover kit, the rolling motions of the car body are reduced. If the driver closes the rebound via the adjustment wheel at the piston rod, the car drives stiffer and more controlled. If the compression valve of the ST XTA is opened, the comfort within rolling motions and normal driving increases.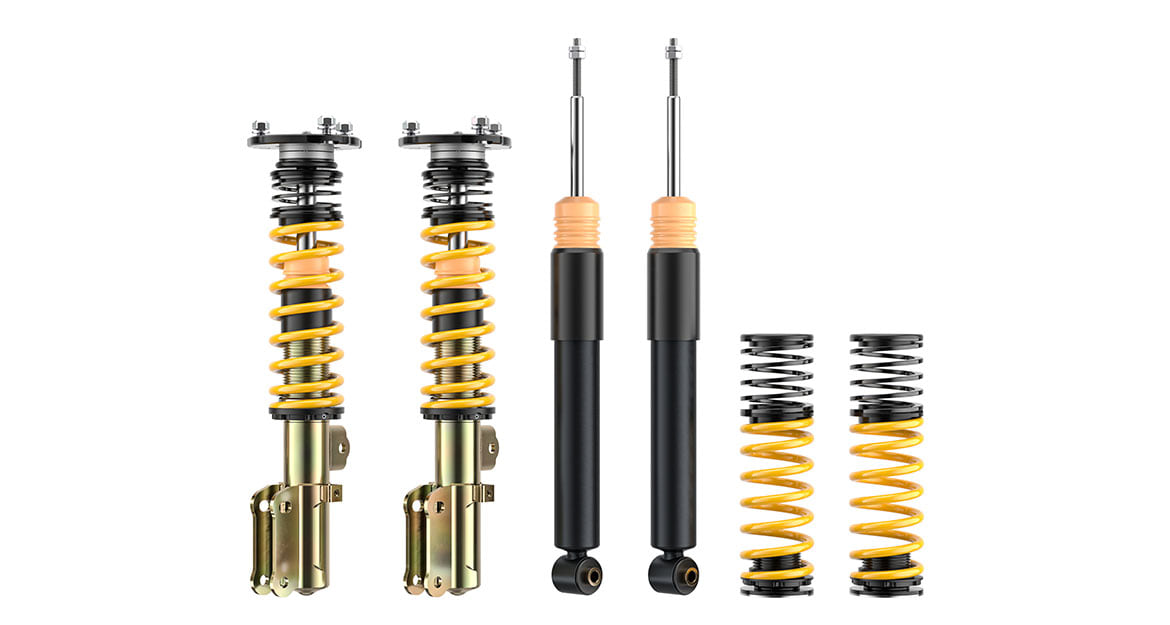 However, more individualization options are available – the ST XTA is also customizable in spring color and labeling. The XTA coilover spring struts are made of stainless steel. Therefore, the XTA is anticorrosive and has more longevity. The i20 N can be lowered from 10 to 30 millimeters at the front and rear axle. The larger i30 N enables a continuous lowering of 20 to 40 millimeters.
Visit Shop