Product News
EVERYTHING FROM ONE SOURCE: INCREASED STANCE AND DRIVING DYNAMICS³ FOR YOUR VW GOLF
The ST suspensions brand is almost as old as the VW Golf MkI * and we offer an extensive and complete suspension program for each model of the VW Golf.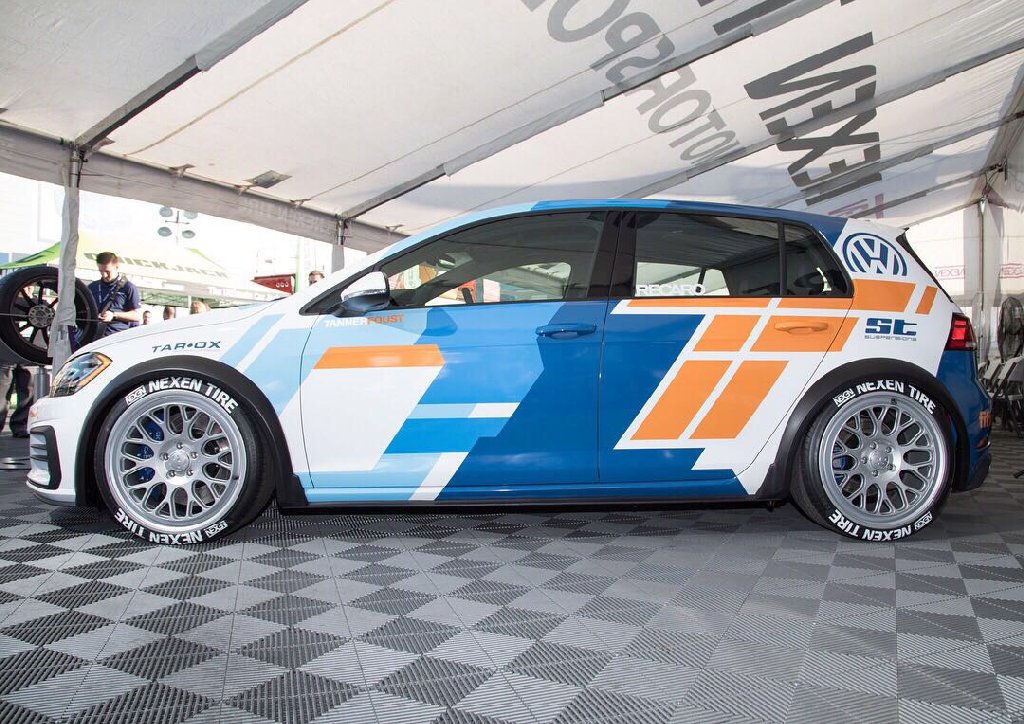 Small price, big result: ST Wheel Spacers!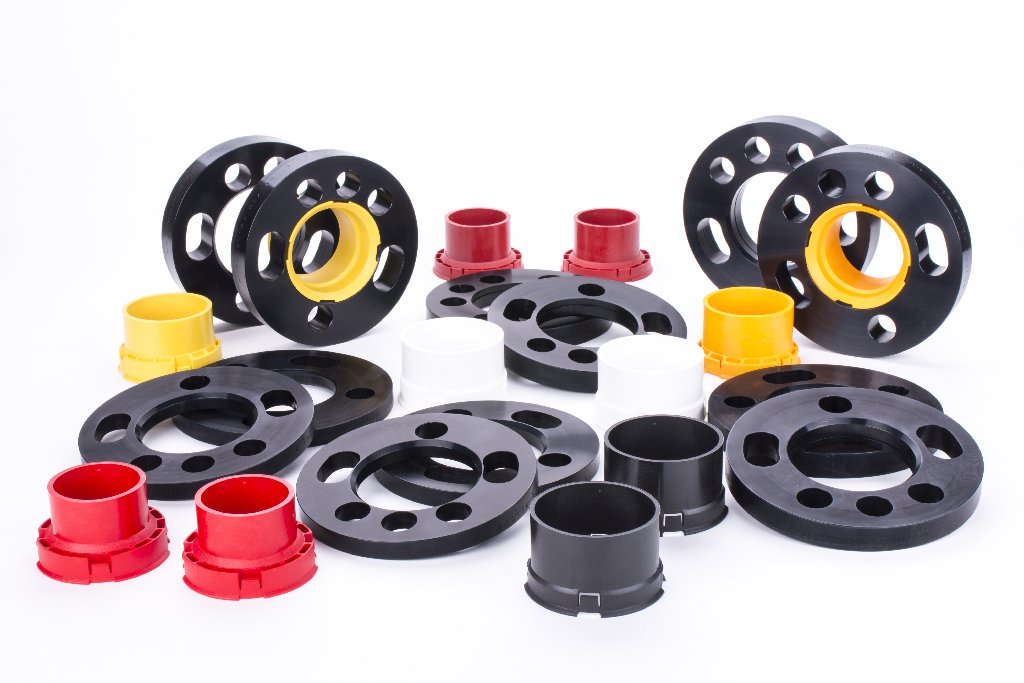 Whether it's a modest change or pushing the limits of what's technically possible, your VW Golf will be left with the perfect stance thanks to our ST wheel spacers. It dosen't matter if you want to flaunt your favorite summer wheels, or use your winter spares, our DZX spacers will leave little to be desired.
Our ST wheel spacers will always fit perfectly, thanks to our multi-hole bolt patterns and assortment of hub centric center adapter rings. Our spacers will space your overall stance in 5mm increments from 5mm to 50mm which translates to 5mm, 7.5mm, 10mm, 12.5mm, 15mm, 20mm, 22.5mm or 25mm of track widening at each wheel.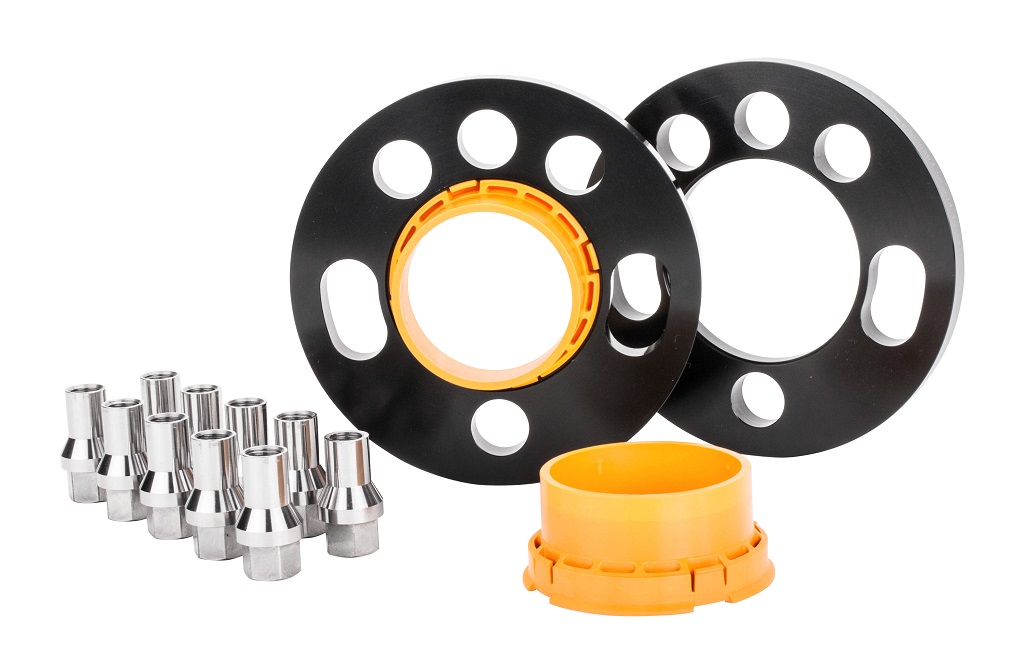 Are you looking for a truly custom look, but get lost when it comes to the figuring out the correct setup for your vehicle? Not a problem, feel free to talk to us or visit our website and click on the "Wheel Spacers" tab.
ST Sport Springs
With ST Suspensions, you can correctly lower your Golf whether it is a MK1 all the way to a MK7. If you desire a modest drop, you will find our various ST Sport spring sets very helpful. Each vehicle weight, individual wheel load and level of intended lowering all have an impact on the compression and rebound behavior of the OEM suspension, so we have meticulously calibrated the ST sport springs to work perfectly with the characteristics of your OEM dampers.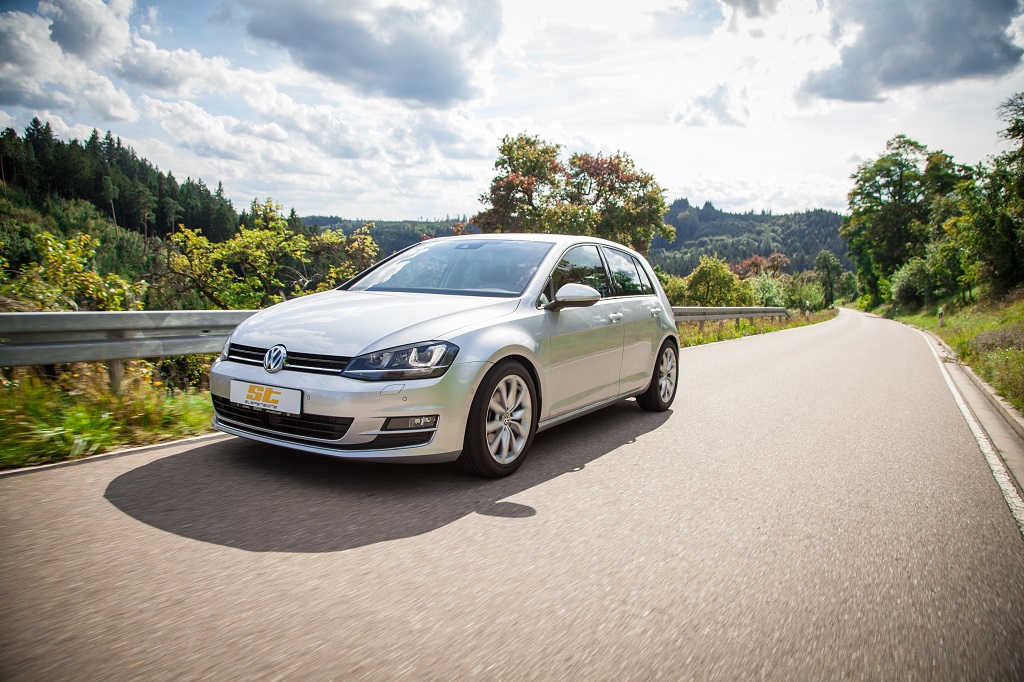 No need to break the bank to have a part in the lowering scene. The best part about our German manufactured ST suspension springs is that each spring was custom tuned for your application and model. The ST suspension springs do more than just carry the weight of your car; they guarantee a positive driving experience and feedback due to their specifically developed spring rates.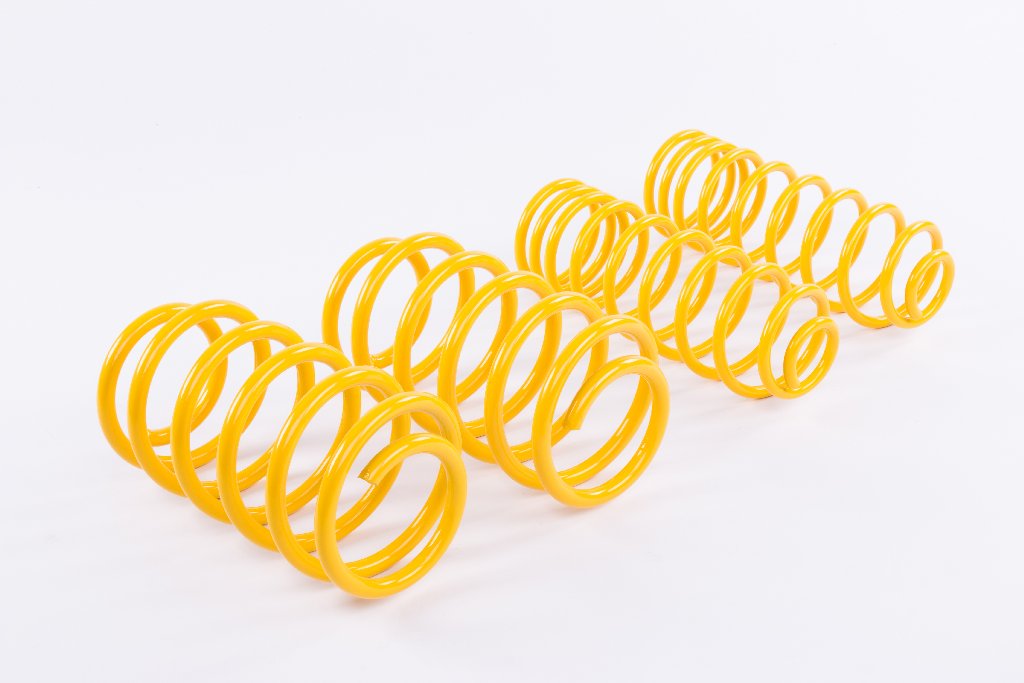 Trusted quality, our ST springs are extremely dependable. They are multi-coated and use the same chrome-silicon steel as OEM manufacturers in the German automotive industry.
ST Sport Suspension - The sporty Alternative to OEM suspension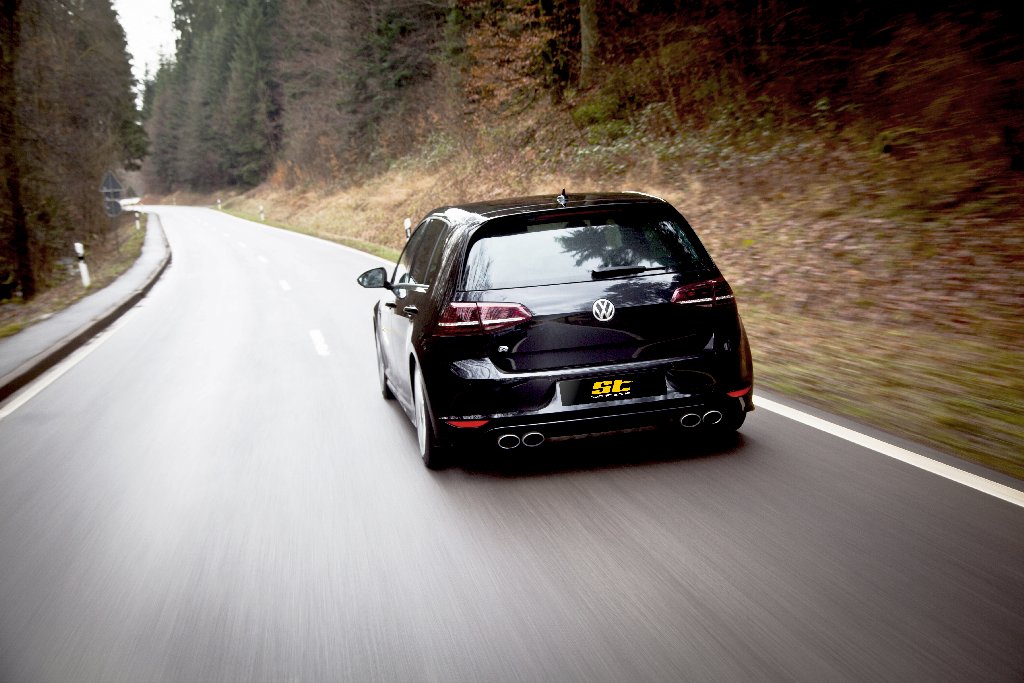 So, you purchased a used vehicle and the suspension on your young-timer Golf just isn't what it used to be. Then our ST sport suspension products are the cheapest and most practical way to provide a complete suspension overhaul.
A large step towards achieving increased driving dynamics. The ST sport suspensions will significantly increase driving dynamics in your Golf with their fixed damper setup, with our latest twin-tube technology and adapted rebound matching spring rates.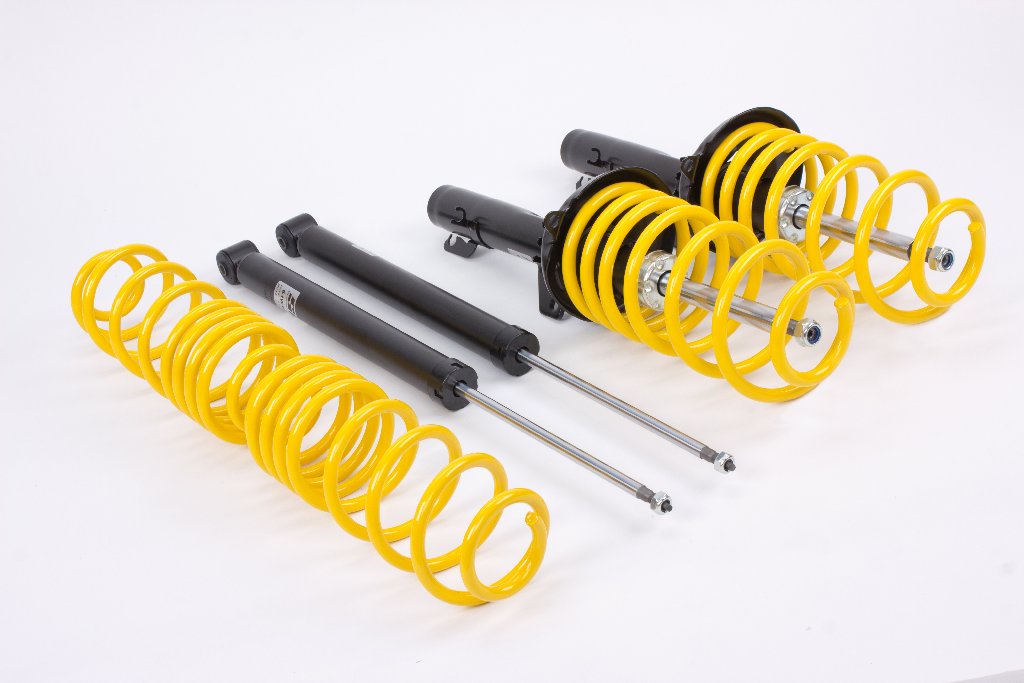 The dampers for the ST Suspension kits are optimized and matched to the corresponding ST suspensions springs and significantly improve the handling characteristics. The Pre-set damping is not only catered towards each respective vehicle, but also the desired level of lowering.
ST X, ST XA or ST XTA Coilover Kit - Driving Dynamics³ Made in Germany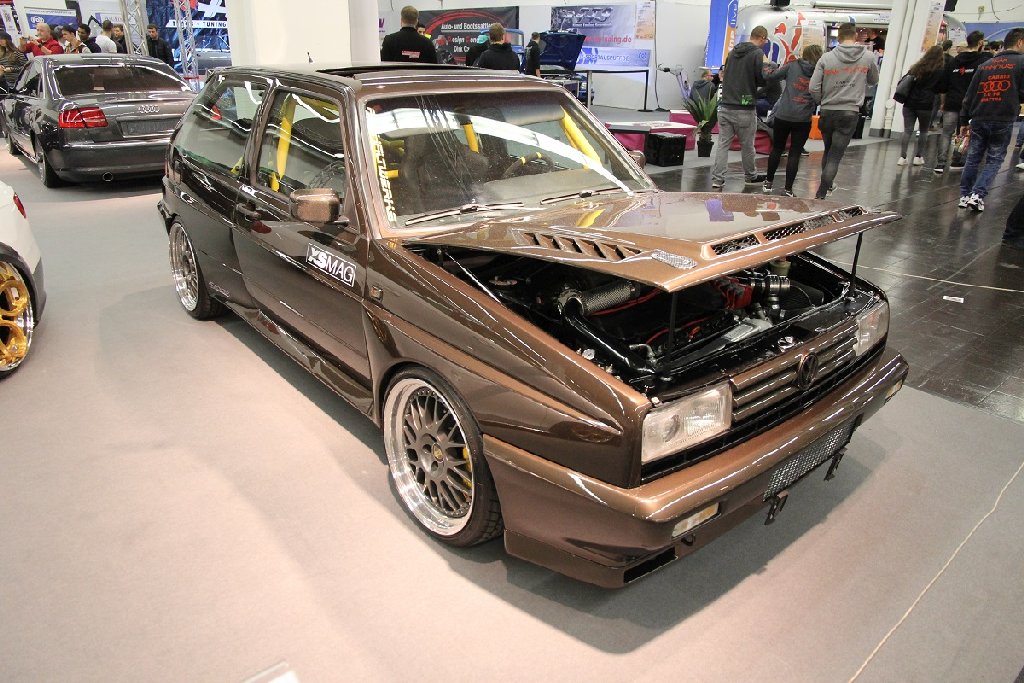 With all three of our ST Suspension coilovers – ST X, ST XA, ST XTA – any VW Golf can be lowered to its mechanical limit and receive a perfect stance and increase performance!
The improved performance and stance offered from our coilovers results in improved handling without sacrificing comfort. Upgrading to a more performance oriented suspension over your conventional suspension no longer means a harsh and bumpy ride. Those days are long gone thanks to ST Suspension's high quality and research that goes into the development of the coilovers. Even on long trips, all three coilover kits excel in balancing comfort with road feedback.
ST X in detail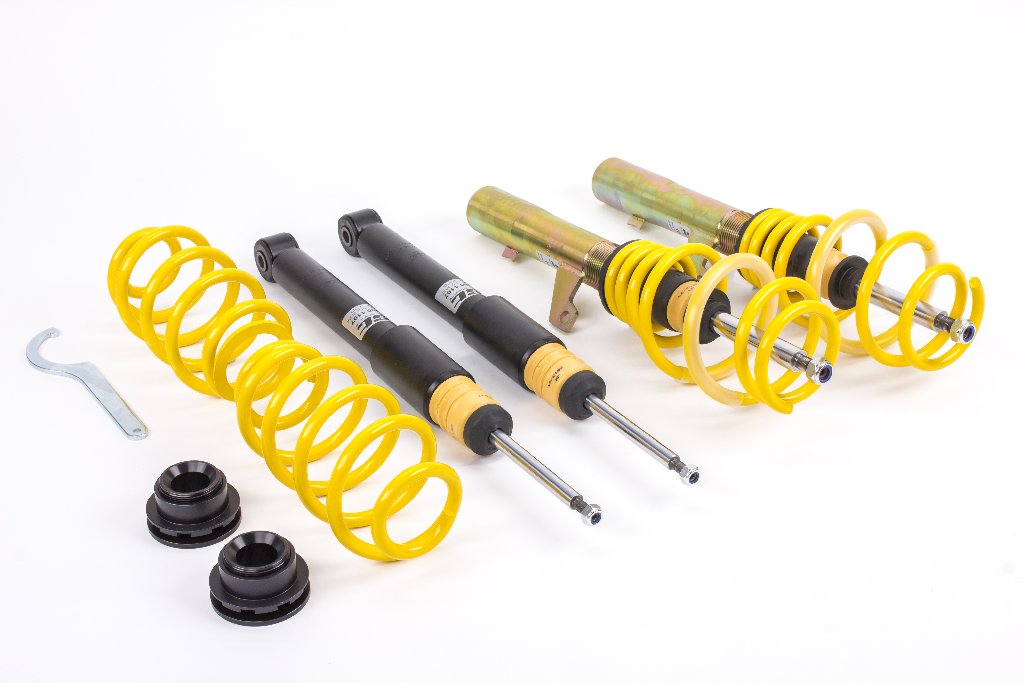 The ST X coilover suspension is our entry-level model and allows for maximum lowering in the context of the technical component report. The incorporated twin-tube dampers by KW have a factory pre-set adjustment for a significantly sportier driving behavior.
ST XA - Performance is a matter of preference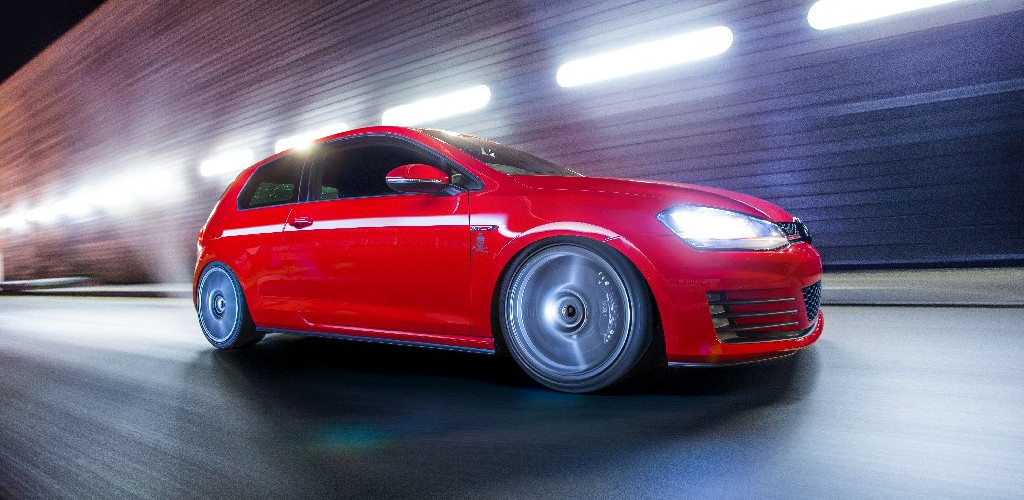 While the ST X coilover suspension in the VW Golf already provides a sportier handling, you will get even more with the ST XA coilover kit. Thanks to the adjustable KW damper technology, it is easy to change the response of the dampers to suite your level of performance or comfort. The suspension kit can be adjusted for more comfort or sharper response via the rebound valve.
While commonly misconceived as a "hardness adjustment", there are many more options with the ST XA. With ST XA coilover suspension, you can adjust the ride and performance characteristics to your own ideal preferences. The rebound valve, which is adjustable with 16 clicks, has a direct influence on the rebound speed at which the coilover returns from compression to its ride height.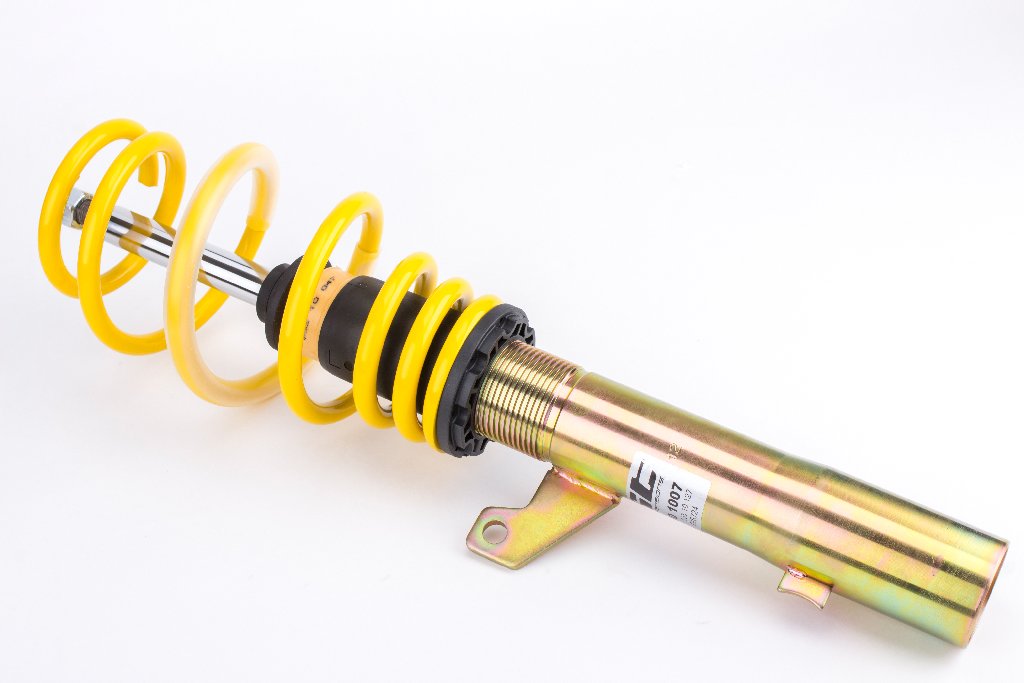 When the adjustable rebound is closed, the adjustment of the ST XA coilovers gets tighter; limiting the vehicle's tendency to pitch and sway. A lower rebound damping (opened rebound valves) increases the ride comfort. In the factory pre-set basic setup, the ST coilover suspension ensures an optimal ratio between rebound and compression.
Maximum Attack: ST XTA with Unibal top Mounts for the road!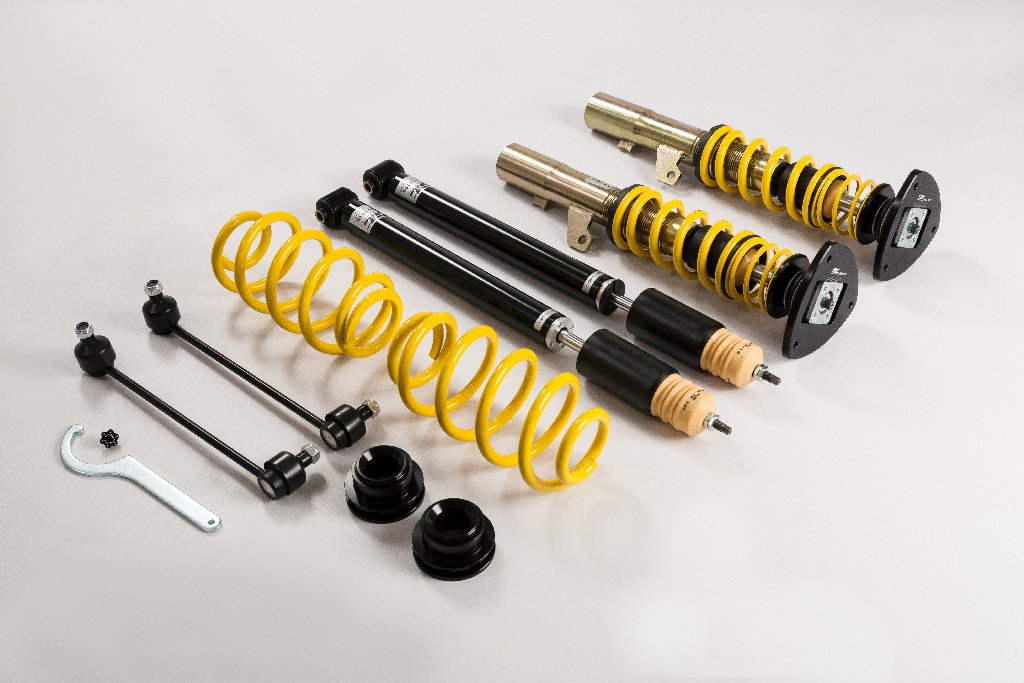 With the ST XTA coilover kit, your Golf will get the maximum performance for the road! Just like with the ST XA, you can also adjust the dampers of the ST XTA with 16 clicks in the rebound stage.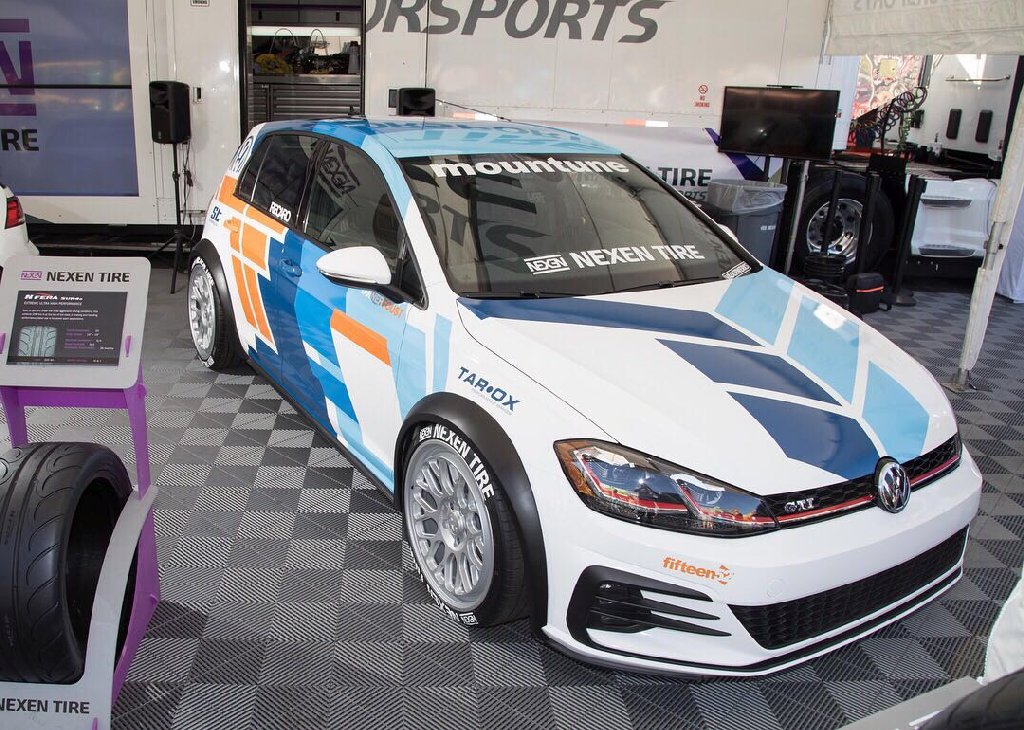 The big difference to the ST XA and ST X are the included aluminum Spherical bearing top mounts of the ST XTA, which depending on the VW Golf generation, allow for camber adjustment on the front axle. This allows you to adjust the camber angle of your wheel to ensure better tire contact for increased cornering ability. Additionally, the top mounts ensure even more precise and direct steering and handling.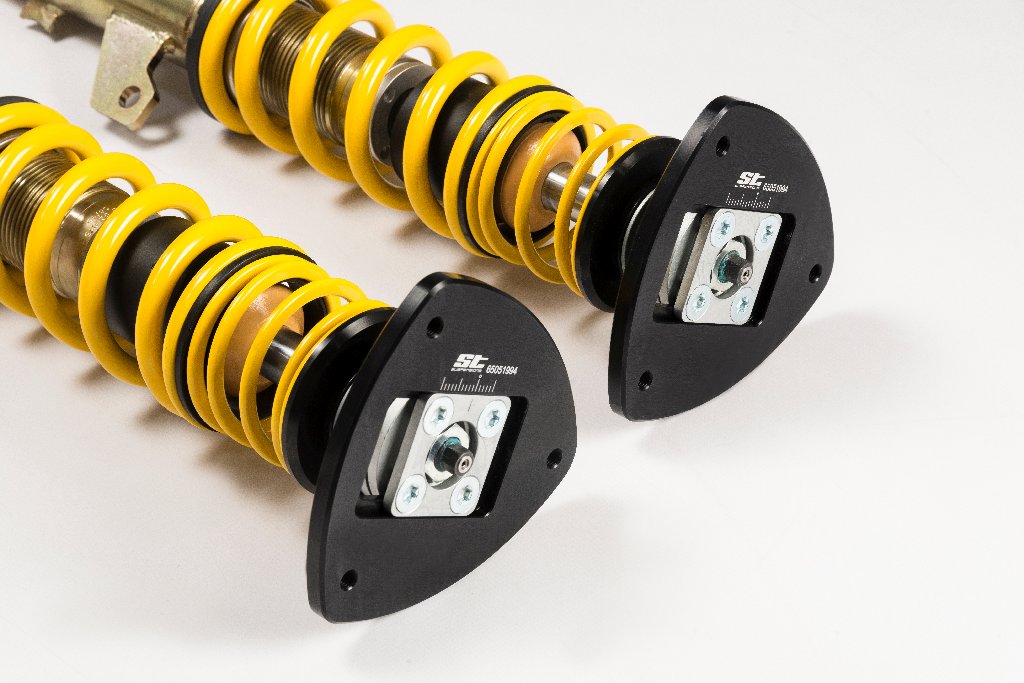 Additionally to the spherical bearing top mounts and performance-oriented design of the ST XTA coilover suspension, performance racing springs are used which are designed specifically to be used with KW dampers.
ST Anti Sway Bars - Maximum Handling!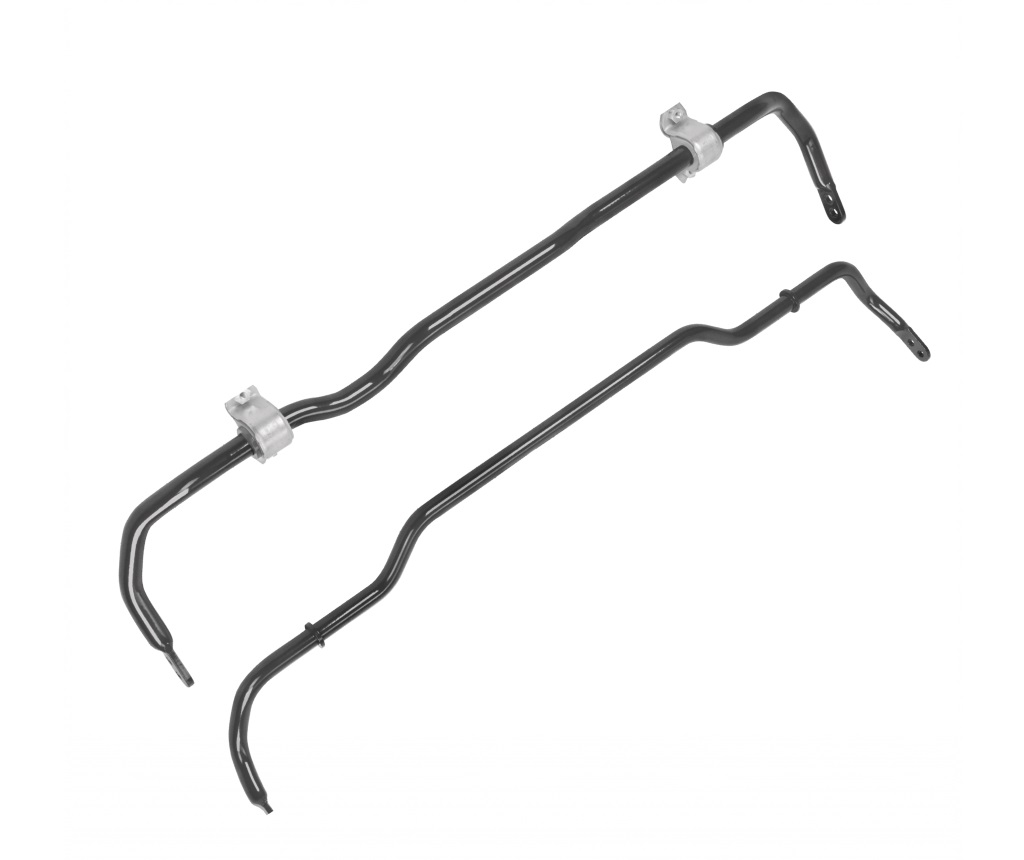 The ST suspensions anti sway bars reduce the roll tendency of the body and ensure increased stability. The resulting higher traction improves the handling. ST suspensions anti sway bars are made of high quality spring steel and sealed with a final powder coating.
By installing ST anti sway bars, the wheel load difference between the outside and inside wheel is minimized when cornering. This improves the driving stance when cornering and during fast direction or load changes. The steering behavior becomes more direct and the roll tendency is reduced. Therefore, allowing for a sportier and more agile driving experience.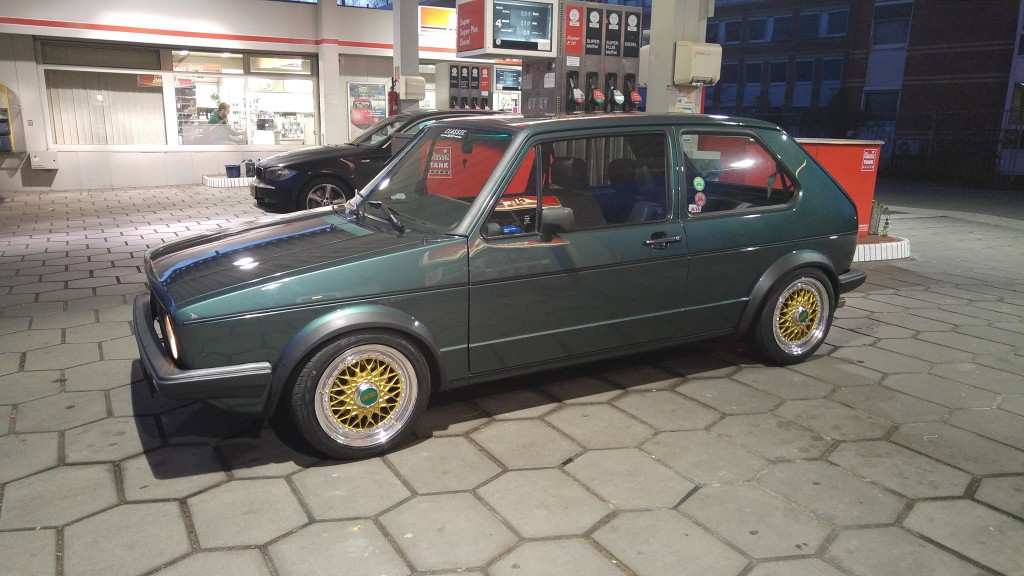 * = Since 1979, ST suspensions has been producing lowering springs and sport anti sway bars for North America. ST suspensions has been a part of the KW automotive group from Germany, since 2005. By utilizing KW technology and the production at KW Gewindefahrwerke in Fichtenberg, Germany, we have established ourselves as one of the top brands in our segment. Since late 2013, ST suspensions has been available all around the world, and in addition to ST anti sway bars and ST sport springs, we have been offering ST sport suspensions, ST wheel spacers, ST lift kits and ST coilover kits.
Order your ST product now: